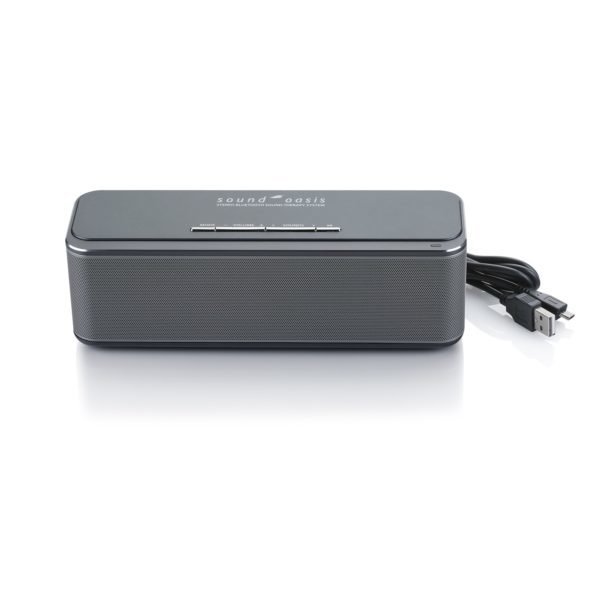 BST-400 Stereo Bluetooth Sleep Sound Therapy System
802-BST400
Product Details
Enjoy white noise, nature sounds and Bluetooth music with our high fidelity stereo Bluetooth sound machine. Sleep sound therapy has never sounded this good – and neither has your music. Listen to built in sounds or stream from your Bluetooth enabled device.
Product Description
Relax or fall asleep with professional quality sound from the Sound Oasis stereo Bluetooth sound machine and speaker. High quality aluminum construction ensures a durable experience that will last for many years. Super bass stereo sound from the dual speaker and subwoofer system creates a life like reproduction of music and sounds. The flexibility of this sound machine allows you to play high quality built-in sounds or stream music via Bluetooth® stream music from your Bluetooth enabled device such as a phone, tablet or laptop.
Turn your device into the ultimate white noise machine using our white noise App, stream relaxing sleep music from your phone or play high fidelity white noise and nature sounds from the built in sound card.
Includes:
Sound system
USB cable
Charger/Wall plug
SD card preloaded with 10 of our best sounds
Features
Includes micro SD card slot with one micro SD card preloaded with 10 sounds
Bluetooth® 4.0 with 30' range
2 x 10 watt speakers with >80 dB volume
Auxiliary input jack
Hands free telephone use
Sleep sensitive indicator lights that turn off after 10 seconds
Back, play/pause, forward, power, mode and volume buttons
Built-in rechargeable lithium battery (3.7 V, 4,000 mAh)
Weight and Dimensions
Product dimension : (200mm x 60mm x 64mm) / 7.87" x 2.36" x 2.52"
Product weight : (676 grams) 1.5 lbs
How It Works

Power Button - Press to turn the Stereo Bluetooth Speaker on. Press and hold to turn the Bluetooth Sound Machine off.
USB Port - Charge the device by plugging the micro USB port to a power source. The USB port can also be used to connect the device as a Stereo PC speaker.
Aux Input - Plug in your own music source and use the BST-400 Stereo Speakers as an external speaker
Built in Sleep Sounds - the Stereo Bluetooth Speaker and Sound Machine comes with built in sounds to help you sleep and relax. Customize your own sound mix by creating a new SD card using our custom sound card creator. Custom card works with both BST-100 and BST-400 sound machines.
Save this product for later