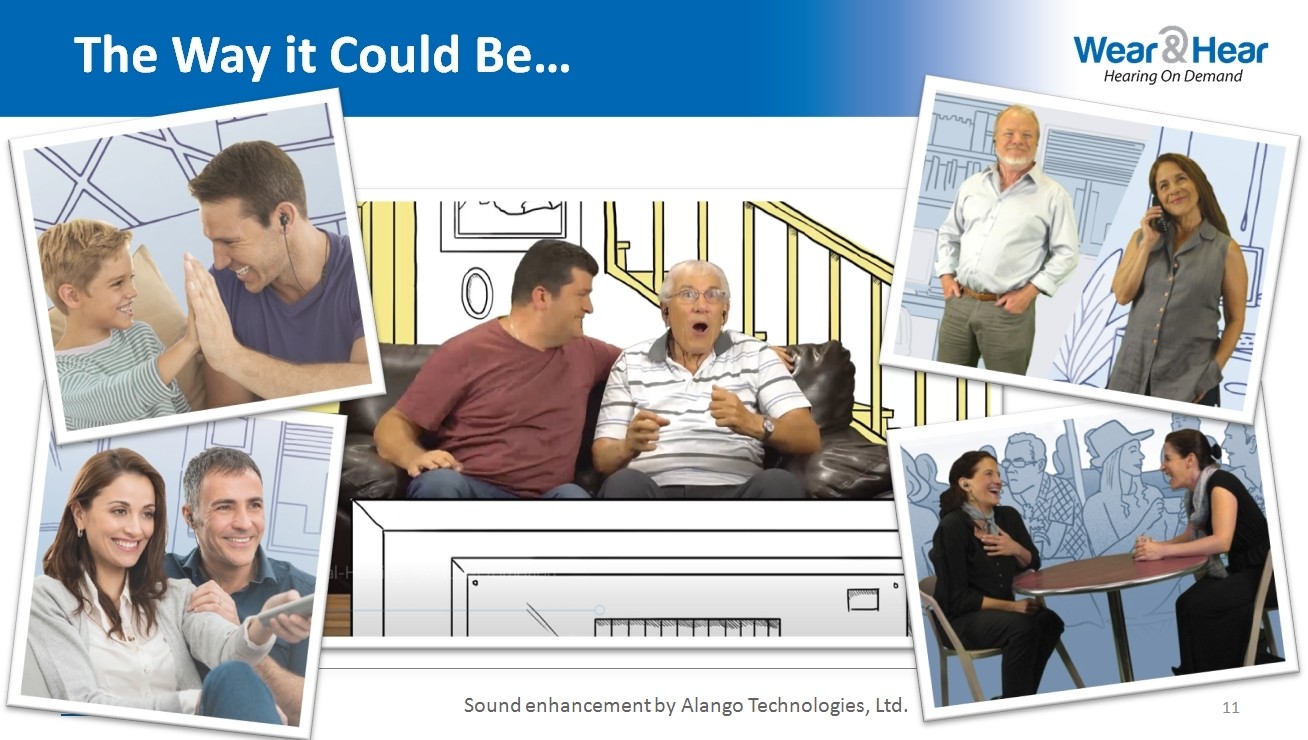 BeHear NOW Hearing Amplifier
904-BeHear
Product Details
BeHear NOW is a self-tunable, truly personal wireless Bluetooth headset. It features advanced signal processing for best quality sound, customizable hearing enhancement for all situations, and assistive listening capabilities. This hearable is a multi-functional, high-performance, low-cost alternative to traditional hearing aids, providing Hearing on Demand .

Is BeHear NOW a Hearing Aid or a Personal Sound Amplifier?
The BeHear NOW assistive hearing headset belongs to a new category of sound enhancement products. It combines the functionality of three existing devices into one:
Bluetooth stereo headset for wireless mobile phone calls and media playback
Assistive hearing device for enhanced intelligibility of speech and other important sounds
Digital hearing aid for personalized sound amplification across a wide sound spectrum
BeHear NOW utilizes voice processing technologies developed by Alango Technologies, Ltd. over the past 15 years, such as:
ListenThrough™ - passing through important ambient sounds during music playback
EasyListen™ - slowing down speech dynamically during phone conversations
Personal Sound Amplifier - providing dynamic, compressed amplification of ambient sounds
Hearing enhancement functions - including noise reduction, echo cancellation, and more
Situational Hearing Enhancement: When You Need It
BeHear NOW can enhance hearing for those with normal hearing, as well as people with mild to moderate hearing loss. This is true for all situations:
In-person conversations
Mobile phone conversations
Music/audio streaming
Television viewing
Movies, theater and concert performances
Outdoors, in nature
Customizable for Your Hearing Capabilities and Preferences
The headset itself includes a variety of controls to manage its hearing functions, which work "out of the box" for four different hearing profiles:
Indoor
Outdoor
Crowd
Live Music
These profiles can be modified in real-time, based on the current sound environment and the wearer's preferences, using the W&H BeHear mobile application. The application also includes:
A self-administered personal hearing assessment for automatic adjustment of the sound in each of the operational modes: ambient hearing, phone calls, and audio play
Direct access to the video tutorials library
An option to set the balance between left and right ears
Assistive listening functions for phone calls and media playback
Various device settings, including default mode behavior, vibration alerts, and more
The W&H BeHear application can be downloaded for free from the Google Play Store or Apple Store.
Save this product for later