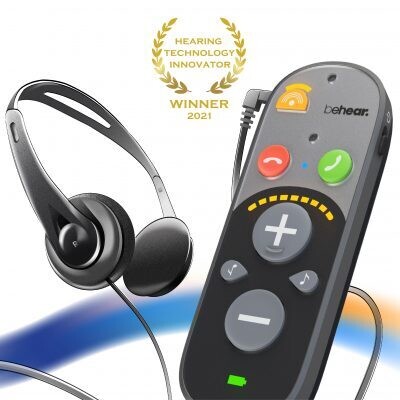 BeHear SMARTO by Wear & Hear
904-smarto
Product Details
STOCK IS NOW HERE!

A simple yet powerful personal hearing amplifier with Bluetooth connectivity
Hand-held or body-worn personal hearing amplifier
Can be used "out-of-the-box", or programmed based on hearing test
Provides up to 70dB hearing boost
Supplied with two types of wired headsets: "over the ear" and "in ear"
Use for live conversations, mobile calls, and streamed audio from a cell phone, TV, computer, or music player
Includes built-in tinnitus masking sound therapy
No hearing amplifier on the market today compares to the sound quality, ease of use, personalization, or overall functionality of the BeHear SMARTO. Designed specifically for those who need significant amplification with minimum hassle, SMARTO delivers what users need most: a simple way to stay connected to the conversation.
Directional microphones for conversation focus
One of the biggest complaints of those with hearing loss is the inability to follow conversation in noisy places. With the press of a button, the beam forming function in SMARTO zeroes in on sound coming from a specific direction. Users can choose to focus on the speech of a specific person or group of people by simply pointing SMARTO in the relevant direction and selecting either narrow or omni focus.
Bluetooth connection for mobile calls and audio streaming
Once it is paired with a smartphone SMARTO can be used to handle cell phone calls and audio play of music, podcasts, conference calls, etc. The phone can be placed nearby in a pocket or purse, or remain on a table (it no longer needs to be hand-held). Functions such as accept/reject/end call, volume up/down, and treble/bass tone control are supported via the buttons on the face of the SMARTO device. This greatly simplifies communication with and for the user.
Enjoy clear and crisp dialogue in television shows
Much more than a personalized amplifier, support for Qualcomm apt-X low latency audio streaming transforms it into an ideal TV listening system as well. The user will no longer need to crank up the television volume in order to understand what is being said.
Single-press emergency call button
If the user falls, or is incapacitated in any other way, s/he can press and hold the CALL button on SMARTO to initiate a call to a pre-defined number. This makes it easy for the wearer to get assistance and gives family members built-in peace of mind.
The optional SMARTO function lock avoids accidental operation. Particularly useful for those with dexterity issues, or dementia, via the BeHear app it is possible to determine which SMARTO features are activated/deactivated. This will avoid confusion and frustration on the part of the user.
Hear better, even in challenging situations
Hearing and understanding speech is much more difficult if the speaker has his/her back turned, is in a different room, or is wearing a mask. SMARTO overcomes these hearing challenges with its sensitive microphones, noise reduction technology, and speech clarification abilities.
Tinnitus Masking
If you experience a continuous or spontaneous ringing, roaring, or other internal noise in your ears, you are most likely suffering from tinnitus. One sound therapy that has proven effective in easing tinnitus symptoms is called "masking." This involves creating an artificial sound that masks your tinnitus to make it less bothersome.
The key to successful masking is to create a sound that matches the phantom sound you are hearing. Since you are in the best position to personalize the masking sound yourself, we give you simple and intuitive tools to adjust the pitch, sharpness, volume and modulation of the masking sound.
Once you have customized the masking sound using the BeHear app, you can activate and deactivate it directly from the BeHear SMARTO device.
Bluetooth
Specifications: 5.0 + EDR + BLE
Working range: 33 ft.; 10m
Supported CODECs: SBC, aptX, aptX-LL
Audio
Embedded microphones (digital)
Number of microphones: 2
Frequency range: 100Hz – 10KHz
Speaker Driver (in supplied headsets)
Number of channels: 2
Frequency range: 20Hz – 20KHz
Sound level: Up to 120dB SPL
Mechanical Specifications
Connector type (main and cradle): USB-C
Dimensions: 4¾" x 1⅝" x 13̷̷16″; 120 x 40 x 20 mm
Weight: ~ 2.6 oz.; ~ 75 grams
Splash water resistant
Battery
Embedded rechargeable battery: Li-Ion
Battery capacity: 1000 mAh
Operation Time (hours)
Sound amplifier: 40
Voice calls: 36
Audio streaming: 36
Charging time: 2-3
Certifications
Package Contents
SMARTO device
USB-C charging cable
Charging cradle
Headset (over-ear)
Headset (in-ear), earbuds in varying sizes
Lanyard (neck strap)
Save this product for later