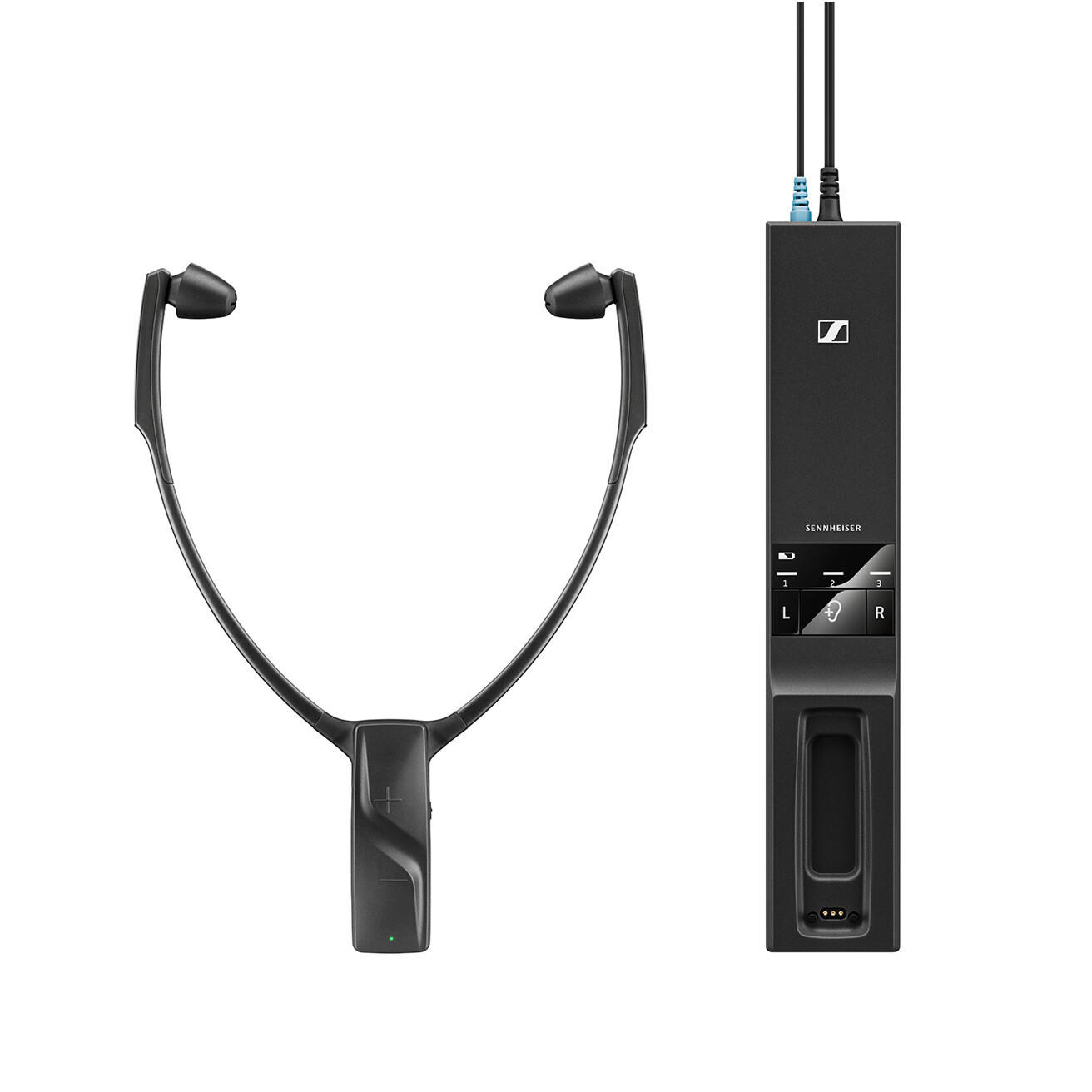 Sennheiser RS5200 TV System
848-RS5200
Product Details
RS 5200
Set your TV volume exactly where you want it, any time of day or night, with the elegant RS 5200 earphones. You'll get crystal clear audio and hours of operation for extended viewing. The integrated Speech Clarity feature makes sure you never miss another line from a movie or show — even if actors mumble or the soundtrack interferes. Choose between three special listening profiles for television, movies, or music. Sit anywhere you like with your wireless earphones and enjoy every second of dialog in immersive Sennheiser sound.
Make TV a + experience for everyone
Maybe you watch TV at a different time of day from the rest of your household. Or someone you watch with has a different volume preference. It can be hard to find a good compromise. Now you don't have to. Just put your RS 5200 earphones on and choose the volume that's best for you. Others in the room can still set the volume on the TV just like before. And all you hear is clear, vibrant, Sennheiser sound. Everyone's happy — and you can enjoy watching TV together again.
Even more + for TV listening comfort
The RS 5200 is new and improved. Several styles and sizes of switchable ear tip adapters are now provided for perfect fit and performance. Whether you prefer a more open listening experience (you can still hear other sounds around you) or greater insulation from ambient noise, you can tailor the RS 5200 to sound just the way you like it. Our engineers have also enhanced the flexibility of the stethoscope-style earphones. They're even more comfortable to wear now and insulate against noise from motion. And of course, you can still set the volume control separately for your left and right ears — new, more responsive volume buttons make it easier than ever.
For those long + sessions
Enjoy the occasional lengthy movie or Netflix session? Go ahead and turn on autoplay. Because the new RS 5200 earphones are so comfortable, you can wear them for hours on end. And with the generous 12-hour battery life, you'll get tired before they do.
Freedom is always a +
The wireless receiver gives you up to 70 meters of range — no need to sit close to the TV set or wrestle with annoying cables. Get up and grab a snack from the kitchen — and keep listening without hitting pause. The RS 5200 connects to both digital and analog outputs, making it compatible with practically any TV. And unlike conventional headphones, these stethoscope-style earphones don't interfere with your glasses or hair.
Design that looks and feels +
The best designs work so well you take them for granted. Our all-new TV-listening earphones offer an experience so natural you'll forget you're wearing them. And when it's time to charge, you'll get a gentle reminder — after a generous 12 hours of use. Just slip the earphones into the stylish transmitter base that doubles as a charging station and dock.
What's in the box?
RR 5200 headphones with built-in lithium-polymer rechargeable battery
TR 5000 transmitter and docking station
Power supply unit with country adapters for EU, UK, US and AUS
TV connection cable 3.5 mm for headphone audio out
TV optical cable for digital audio out
TV RCA adapter
Silicone ear pads (S/L), Memory foam ear pads, Open foam ear pads
Instruction manual
Save this product for later