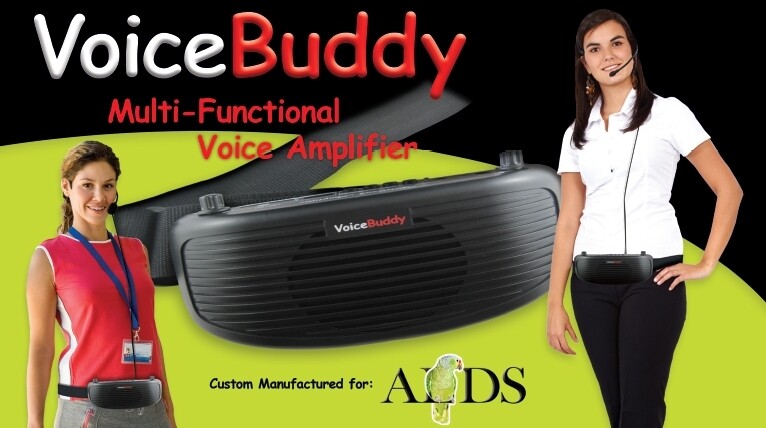 VoiceBuddy Personal Voice Amplifier
653–VB10
Product Details
Indoors, or Out-of-doors, the VoiceBuddy ensures you will be heard.
The ALDS VoiceBuddy brings the personal voice amplifier into the 21st century with the following features:
10 Watts of Power for greater amplification

Volume & Tone/Echo Controls

Long Life re-chargeable Lithium Battery

3.5mm Microphone input port

3.5mm line input port to connect external audio sources

USB slot from which you can play music or special effect sounds during presentations

SD card slot from which you can play music or special effect sounds during presentations

Solid state circuit board

Wide waistband strap for comfortable fit
VoiceBuddy with solid state technology, SD, and USB audio ports gives the user multi-functional options not available in other waistband amplifiers.
The latest voice amplifier of choice by school teachers, music instructors, aerobics instructors, aquatic instructors, trade show presenters, athletic coaches, and tour guide operators.
VoiceBuddy is the perfect choice of clients with temporary or permanent voice impairment; makes conversation possible for Parkinson's, ALS, MS and laryngotomy patients.
VoiceBuddy provides a more comfortable fit, greater amplification, negates feed back, and offers better clarity of sound than competing voice amplifiers.

Please note: The Lapel Microphone is no longer included in the kit due to manufacturing delays. An upgraded headset microphone is included.

See what others have to say about the VoiceBuddy:
Hi Ted,
Just wanted to let you know that I got the VoiceBuddy very promptly and I love it. I particularly like wearing it outside with the children. The teachers tell me they can hear me in their classrooms nearby.
Many Thanks
Myrle B.
Hi Ted and Carmel
I would like to thank you both kindly in supporting me to get the Voice Buddy. I received him yesterday and have used it all day, and despite it being a Friday, my voice feels like MONDAY voice!! I am very excited and thank you both once again.
Ted, this is a great product that I will not hesitate to recommend it.
Kind regards and thanks again,
Rosemary W. Music Coordinator , Pacific Pines Primary
Save this product for later